Greetings Leprechauns, Lounge Lizards and Lavish Lovers of Lady Luck
As the Ides of March are upon us we can be sure that the one truly honest holiday of the calendar year can't be far off.  That's right folks it's nearly St. Paddy's yet again wherein drinking for drinking sake seems to inevitably  carry the day.
In celebration of this celebration of celebration we sought to unearth several of our more celebratory video libations which might tweak your students' appetites for whetting their whistles down at the nearest watering hole come the 17th!
Please also have a gander at our latest language activities as well as the new format of the ILZ Flash which was naturally dreamt up after a wee nip in the wee small hours.  Positive feedback on the form and content of the Flash would be greatly appreciated, while negative sentiments are, of course, just naturally better left to oneself.  In the meantime:
"May you have food and raiment, a soft pillow for your head; may you be 40 years in heaven, before the devil knows your dead."
~ oft coined Irish toast  (source unknown)
Aperitifs…
…and After Parties
Meet The Teacher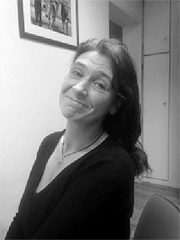 My name is Sinead. I'm from a family of ten. This may seem like a big family, but it was quite normal for my generation in Ireland.  I'm married to a Frenchman that I met in  London and we have one beautiful son – Henri (7 going on 17).  When Ireland is  beating France at rugby, Henri is allowed to use my bodhran (a traditional Irish drum), thereby promoting his Irish heritage.
Before becoming an English teacher I was a child protection social worker for 15 years which was very rewarding, but sometimes pretty heavy. One of the great things about Ireland is that the  people are friendly and talkative.  We also speak quite fast, so when I moved to London I had to slow down and start pronouncing my "th's".  Another fantastic thing about Ireland is the music. There is music everywhere and even the top  recording artists go busking on the street as this is considered proof of a musician's  ability.  We also love festivals, where there is sure to be more music. A typical social gathering for traditional music, drinking and dancing is called a 'ceili'. If you get a chance you should go, they are great fun. In my  region, the South-West we have a festival called 'Puck Fair' which is basically a beauty competition for a male goat. Contestants are nominated from around the world and the best one is crowned king of the town.
For your info : Saint Patrick's day is on 17th March.